Riverdane: The Farm Four EX-97 Cows Have Called Home!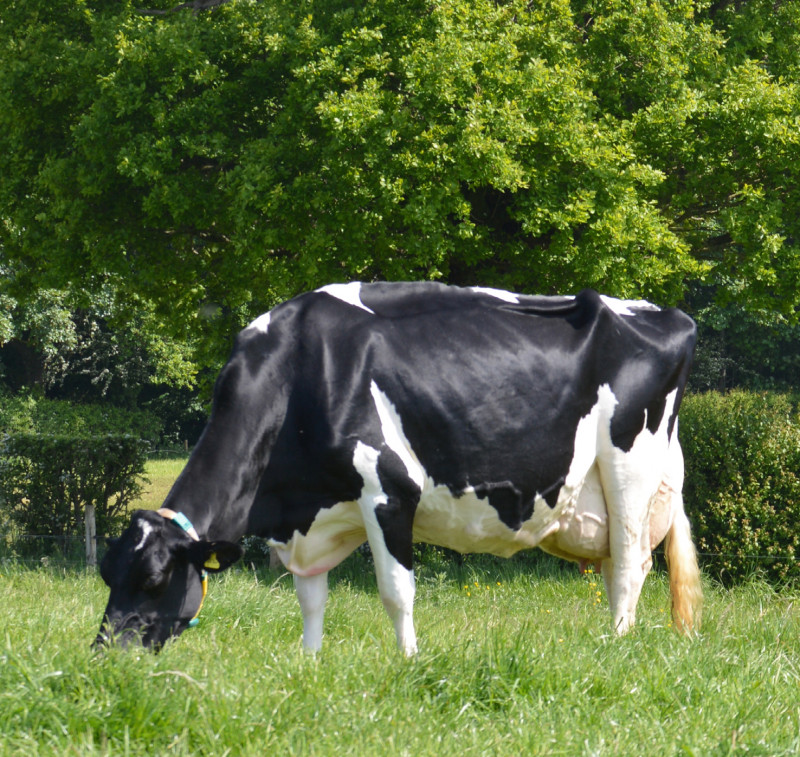 Currently giving 65kg/143lb daily, the UK's National Champion, Riverdane Absolute Springsteen EX-95 (Absolute-Explode), has never been beaten in class. A 9th generation VG/EX, she originated from Pinehurst and traces to Jan-Com Fond Matt Matilda EX-97.
South Africa, New Zealand, Sweden, the UK, Norway, Denmark, Spain, Belgium, Ireland, Italy, Hungary, the Netherlands… Mark Nutsford's transatlantic judging appointments speak for themselves. But what do you know about him and his family's Master Breeder Riverdane herd? Arguably his herd's credentials are even more impressive than his judging CV – read on to find out more!
You only have to spend a few minutes with Mark and Sue Nutsford to realise they are not just dairy farmers… they are "cow-mad" with an infectious passion for the Holstein breed. But what makes them even more unique is that their unrivalled enthusiasm is backed by excellence and today they rank amongst the best breeders in Europe.
Interestingly Mark was not "born into" farming – his mother was a nurse and his father was an engineer. The agricultural interest was sparked by his grandfather, who was a dairy farmer. After leaving college, Mark worked at a 400-cow greenfield facility in Northumbria. Following this he left the UK for 2.5 years and worked on a 1,200-cow dairy in Saudi Arabia where he started working intensively with embryo-transfer. On his return to the UK, Mark began working in embryo-transfer and several years later created his own company – Celltech – which has successfully been in operation for 30 years. Before marrying Sue (who is daughter of Bill Nadin, Sterndale Holsteins) and establishing Riverdane in the historically large dairy area of Cheshire, Mark had his own prefix – Topmark. Interestingly the UK's Nr.1 brood-cow is Topmark Raider Rhapsody EX-92 125*, who traces back to Audrey Posch EX-93. Raider Rhapsody is the 3.dam of brit-icon Peak Goldwyn Rhapsody EX-97!
There is a very limited number of breeders worldwide that can say they have owned an EX-97 cow. At Riverdane, these Master Breeders haven't just owned one… they have owned four! Their latest EX-97 cow is the 7th lactation Riverdane Rosabel (Explode-Goldwyn), who symbolises their first homebred 97-point cow. Mark: 'Rosabel is a great-granddaughter of James Rose EX-97. All of our EX-97 cows are the kind of cows I like.' When breeding cows Riverdane's Nr.1 priority is milk, fat and protein. Following this is type – particularly udders, feet and legs. 'In Cheshire we can easily grow good forage like grass, maize and wholecrop. I need a balanced, capacious cow to synthesise that forage – starting at the muzzle, they also need heart and rumen capacity. If cows don't have the capacity to eat, they are not going to last and produce milk. Litres of milk per day of life is the thing I am most interested in. Health traits are of interest, but they have low heritability. Total indexes like PLI and TPI have so many traits included that they can't make an impact, except for highly heritable traits like milk, fat and protein. However fertility indexes have been useful to highlight the outliers, both good and poor! We also think that the feed efficiency indexes will be important for the future, but maybe the AI industry will need time to perfect the technology. For us currently, Chief and Delta-Lambda daughters are milking well, whilst in the youngstock Davincis have impressed me. Hannans are nice too.'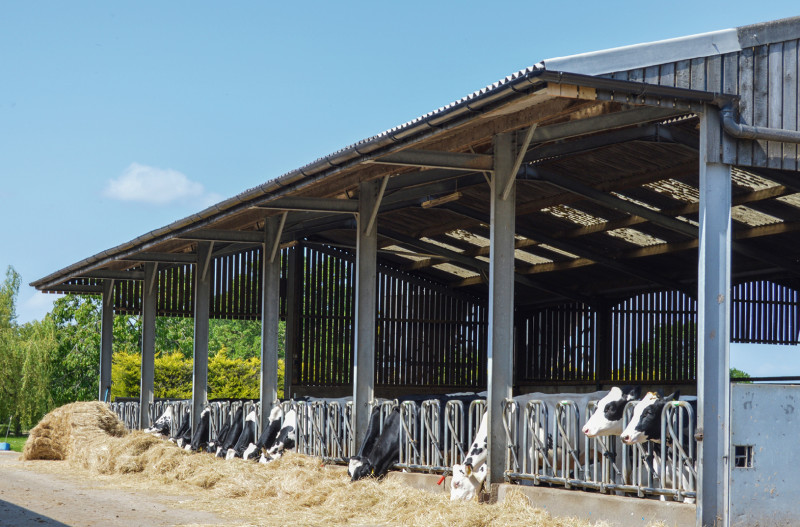 A new GEA herringbone parlour and two new GEA robotic milkers are amongst the latest technologies at Riverdane's new dairy facility.
Naturally, if you have owned four EX-97 cows, you will have many other high scoring cows in your periphery. And what you will find in this herd is uncharted territory for most of us… Today at Riverdane there are also three EX-96, four EX-95 and nine EX-94 cows! So what is the secret? 'What is important to me is having a balanced, dairy cow with a good pedigree. I like to look at all the data surrounding a cow – pedigree, classification, production and index – it is all important. It has been proven time and time again that high classification cows have higher lifetime yields and are more profitable. That data is readily available from breed societies but people choose to ignore it – and I don't know why.'
Of the last 25 World Dairy Expos, Mark has been to around 20. Mark: 'It is important to travel and keep up-to-date with genetics, trends and technologies. These days it is more important to see cow families as it is hard to see a lot of daughters from one bull. We know that genetics can be passed on from three generations back and have influence – so genetic information from a 3.dam can be important too. I won't use a bull unless the dam is scored highly as a 2-year-old. It is bad not classifying bull mothers, you can't have production without type – they go hand in hand and you need both.'
On 19 August Riverdane will host its first on-farm sale "The Theatre of Dreams sale", featuring 150-head which will be roughly 50% cows 50% youngstock. But this is not the first time they have sold a large quantity of the herd… In 2008 they sold all of their milking animals to Willsbro Holsteins, in 2014 Vetech Holsteins bought 80 cows, whilst Christmas 2022 Carldanton purchased 100 head. But how easy is it to rebuild the herd after selling so many? 'I love selling great cows,' explains Mark, 'I have always bred for balanced cows, but you need to use the right family and the right bulls – that is absolutely critical. If you stick with deep cow families there is always a good one coming along. If you use bulls from good cow families so that each animal has it on both sides you can't fail.' One of the best bulls Mark has ever used is EDG Deman. Nearly every daughter has gone EX, including two scored EX-95. A herd favourite is Riverdane Deman Ashlyn EX-95, who is out of a 110,000kg/242,000lb milk EX-94-5E Seaver, EX-94-4E Talent, 72* EX-90 Durham and then the great Tri-Day Ashlyn EX-96. Ashlyn, Springsteen (see photo), Condon Aero Sharon and MD-Delight Durham Atlee have all created strong cow families at Riverdane. But although Mark and Sue have very well-established families, they also like to invest in new bloodlines each year. Currently there are granddaughters of the $355,000 WDE Grand Champion Oakfield Solomon Footloose EX-96 and All-Canadian/All-American Sweetview Dempsey Hurryup EX-94; a daughter of two-time WDE Grand Champion Strans-Jen-D Tequila EX-96; plus a very interesting 2926 gTPI, 3.22 gPTAT King Doc from the Halo family who is backed by an EX-94 Delta-Lambda, EX-91 Monterey, and then Cookiecutter Mogul Hanker EX-94. The 2017 Madison Grand Champion Rosiers Blexy Goldwyn EX-97 has also started an exciting family at Riverdane producing the impressive All-Britain 5Guys Blexy Black Raptor VG-88-2yr.
In the last couple of years there has been a lot of change at Riverdane. Today the high yielders are milked with two new GEA robots, whilst a 20-a-side herringbone milking parlour is used to milk the low producers twice-a-day and show-cows three-times-a-day. Yes: It is all-go on this busy operation! Other technology on-farm includes automatic calf-feeders, a slurry collector, an automatic feed pusher and a fan-system. 'I am happy with the level of automation we have,' adds Mark, 'I like that it gives us more time to spend with stock. I think the next step for us would be investing in a renewable energy source – like solar or wind – to complement the farm's technology. We are lucky to have incredible staff – it is a combined team effort and everyone has a great work ethic, passion and commitment. We are all cow-mad people and love cows.' l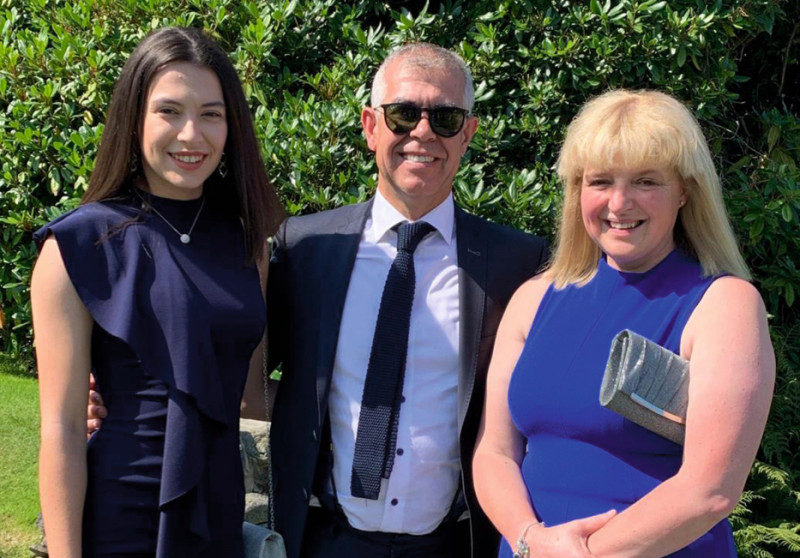 Sharing Mark and Sue's enthusiasm is their daughter Jodie who is entering her last year at vet university.
Owned by Mark, Sue and Jodie Nutsford 200 cows milking, 640 head total Production: 11,486kg/25,269lb 4.3% 3.2% 36 cows classified EX-93 or higher, including 9x EX-94, 3x EX-96, 1x EX-97 450 acres farmed (120 acres owned) 70acres maize grown, 20-30acres wholecrop Cow ration: Beet pulp, full fat soya, rolled wheat, maize meal, protected rape, barley Bulls used: Dropbox, Lambda, Chief, Davinci, Bullseye, Detective, Hanx-P, Hardy