Boomaerts in France: 'As much milk as possible from forages; so we need strong cows!'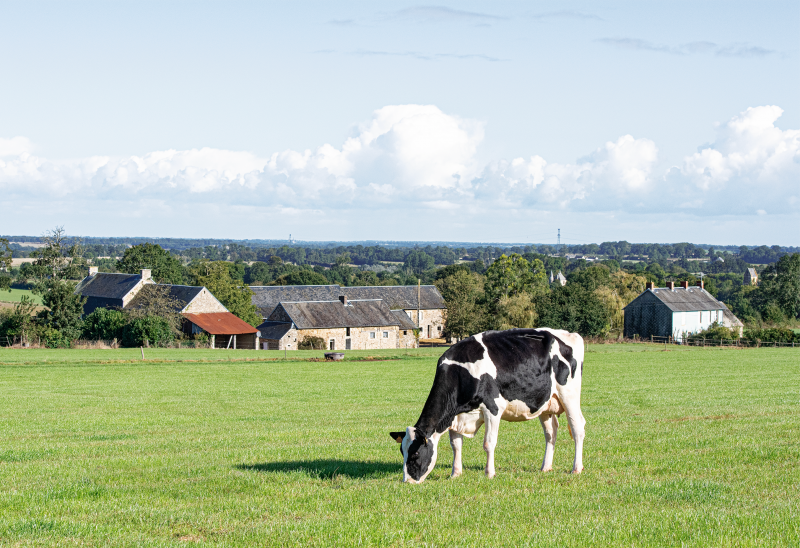 This is bull dam MB Suella 2 (House-Rubicon-McCutchen), originating from the Saturday family, which has provided the Boomaerts with various generations of bull dams.
In 1999, the couple Marco and Anita Boomaerts left the Netherlands for Aurseulles in Normandy, to begin their own dairy farm. They literally started there from square one. 'We started with one fresh cow, our first shipment to the processing plant was 50 litres,' smiles Marco. Much has changed in the meantime, as today the farm has 135 milking and dry cows and has also become a prominent source of genetics. Last year seven bulls left for AI and Sinatra-P, Rayban, and Randy were well-known sires of sons – all originating from flourishing cow families at Boomaerts.
Sometimes you deal with bad luck . This happened to the Boomaerts family and the AI company Synetics with the young bull Rubercy. In 2022, the young Gigabyte son broke through as one of the highest French sires for conformation, also with nice figures for production and fitness. Unfortunately: the bull turned out to be infertile and not a single dose of semen was produced. Too bad. 'But: fortunately the family is still here and has a new figurehead,' tells Marco. 'Out of the Stantons Adorable daughter Marqabre VG-86, Rubercy's dam, we now have a beautiful, recently fresh Captivating daughter, and from her a Parfect heifer calf.'
Important to mention from the outset: do not think that this farm focuses solely on elite conformation. Certainly not, because here it is especially about down-to-earth, no-nonsense breeding. 'We believe breeding is very important,' explains Marco, 'But it has to serve profitability. That is also the focus of our breeding goal. We started with nothing, so we are not interested in "luxurious" breeding. We want our cows to produce as much milk as possible from forages, so we need strong cows. For that reason, we look for complete sires, from whom we can later milk daughters that bring satisfaction. We are looking for productive cows with components, with sufficient strength and body condition, resistance against ketosis (because we feed little concentrate) and outstanding hoof health.' When we next ask Marco about the names of sires that are used extensively, then they are not all in the top-10. 'No,' he smiles: 'I do not blindly pursue the highest figures, because I do want to continue milking solid cows. For example, hoof health is not presently included in the French ISU total index. But I do pay attention to it. From my perspective, production is weighted too lightly in the ISU, so I give it a heavier weighting. However, next year the ISU will be modified in favour of both traits, I am happy about that.'
A family that perfectly suits Marco's approach is that of Sher-Est S-Wind Saturday. A family which thanks to an embryo import by the AI company Amélis (now part of Synetics) arrived in 2006, with MB Shottle Summer VG-87 at the foundation. Via an EX-90 Morty, a Patron, and a Thor, she traces back to Saturday. And note the progress that the Saturday blood has made in the meantime: today with 60%, it is far and away the most prominent family. And Marco returns to his breeding goal for a moment when we talk about the Saturdays: 'Yes, I want production cows, but: in order for that to work, then it needs to be supported by functional conformation. So I pay very close attention to conformation – not in order to win shows, but in order to support production. For that reason, I primarily pay attention to feet & legs, capacity, udder, and I like to see a wide and sloped rump. The Saturdays are built exactly like that. They have a wide, long rump and stand well on their feet, and are wide through the front end. Strong cows that fit optimally here.'
Duly noted, now with 60% Saturdays. In addition, they meet the wishes of the AI company Synetics, as they have already purchased various sires from the family. Two years ago the full brothers Randy and Rayban (today with 202 and 194 gISU respectively) were sires of sons at Synetics. They are sons of the German bull Complex (Cameron-Bestboss) out of Suella 2 VG-85, a daughter of Leaninghouse Helix (<HangTime) out of one of the best Rubicon daughters in France: the now seven-year-old Suella VG-86.
"Breeding has to serve profitability."
Now we quickly switch gears, because while the Saturdays might be the largest family, a family that is also performing nicely in providing AI sires is the Digne line. A prominent cow in the family is Adlon-P daughter MB Digne 19 VG-85, the dam of two current AI sires: Sinatra-P (206 gISU: the sire of various high-ranking gISU calves) and Sound-P (203 gISU). Both are sons of Westcoast Soundcloud (Outlast-Delta). Even though the Dignes have already been in the Boomaerts herd for several generations, they eventually trace back to the Canadian La Presentation Digne EX, known for her 32 breeding stars. We see these stars nicely back in the French Boomaerts herd, because one of the three heifers that the Boomaerts have in Synetics' prestigious donor barn is Digne 30: a Sanchez-P daughter with 213 gISU and +4.0 conformation from the Digne dynasty.
A lot of young talent with high indexes: but who is the oldest cow in the barn? Marco smiles and immediately continues with a fascinating story. 'One of the first families in our herd was the Camis. That started with an O-Man daughter from the American family of Jeta Commotion Cupid. Out of this O-Man we had a Planet daughter – the nr.1 Planet of France – from whom we first sold many embryos and after that sold to Germany. There she also won shows; just think, a Planet out of an O-Man! But: with that Planet, we also sold the bull dam calibre of the family. The family is no longer being flushed a lot, and is thus steadily getting smaller, although it still makes up 10-15% of the herd. But: of the oldest cows in our herd, most descend from the Cami line: long-lasting, with outstanding udders and high components.'
You already read it: from an entirely newly started herd in 1999, within 25 years the Boomaerts have developed a herd that teems with Holstein talent. And where Synetics eagerly scouts out the youngest stars. Through all the years, the breeding goal has remained the same: strong cows. Marco concludes: 'Sometimes I smile when they say about a cow: "She misses that last bit of style, she is just a bit too round." Then I think: that is precisely the strength of the cow: a powerful, strong back. Because I am not looking for luxury, but for strength.' l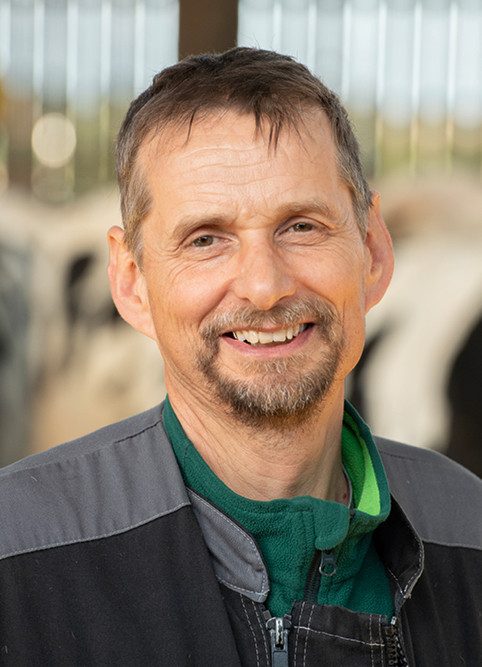 Marco Boomaerts: 'The Saturday family has provided us with "no-nonsense power".'
Located in Aurseulles, a half hour west of Caen Owned by Marco & Anita Boomaerts 145 ha: 50 corn, 50 grain & canola, 45 grass & alfalfa 135 milking & dry cows, 255 animals total Ration: half corn and half grass/alfalfa, supplemented with soya, canola, and dry corn Production: 2x 11.200kg/24,640lb 4.6% 3.6% Current sires: changing quickly (2/3 Synetics, 1/3 imported): Talun-P, Sitolo, Shakaponk, Torra, Parfect, Holysmoke