Jennifer Wins Biggest UK Dairy Day Ever!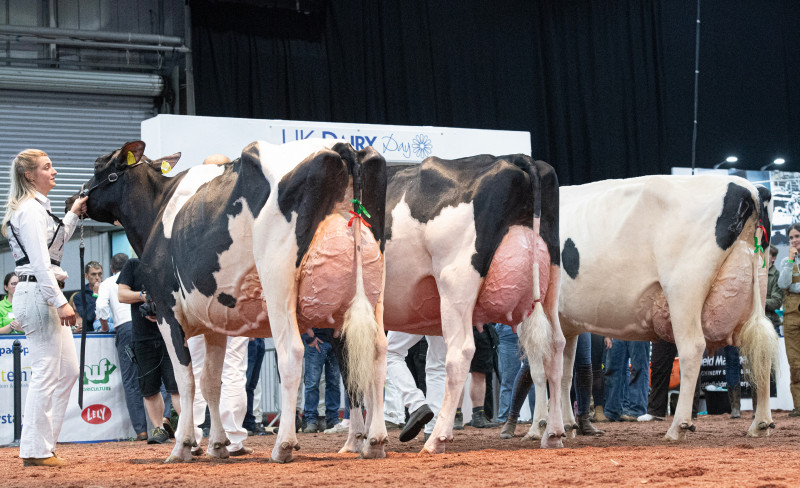 L-R – Champion: Evening Sidekick Jennifer, Reserve: Wilt Bailay, HM: Styche Armour Hilgonda.
The biggest UK Dairy Day of all-time delivered one of the most impressive line-ups ever witnessed at a British National Show. Two cows that were in the top-3 last year made it back into the championship honours. But the impressive cow that led the field was new to UK Dairy Day's final trio. Evening Sidekick Jennifer gave Evening Holsteins their first UK National Grand Champion. 
It was hard for Judge Iwan Morgan to keep the smile from his face as he picked up the microphone to give his reasons for the Grand Championship. And you can totally appreciate why… Stood before the Welshman were six outstanding cows. Heading the line-up was his Heifer in-milk Champion – the balanced, good-uddered Senior 2-year-old Riverdane Tatoo Ambrosia who traces back to Tri-Day Ashlyn via an EX-94 Sanchez, VG-89-2nd lactation Toystory and then EK-Oseeana Ambrosia. Earlier in the show she had triumphed over two other homebred 2-year-olds with equally impressive pedigrees: Wiltor Chief Atlee (1st Junior-2-yr) who is out of an EX-94 Doorman tracing back to MD-Delight Durham Atlee EX-92 (dam of Atwood), and HM Feizor Mirand Kandie-Red (1st place R&W Senior-2-yr) who is out of an EX Ammo-P grand-daughter of the illustrious Luck-E Advent Kandie-Red EX-95. Next in the final-6 was the super impressive Senior-3-year-old Mag Pandor (Sidekick-Jacoby) from Blythbridge Farms, who they had purchased from Mag Holstein in Miallet, France. Behind her stood the winning 4-year-old Evening Sidekick Jennifer from Evening Holsteins, and Wilt Bailay – bred by Ferme Wilt in Dachstein, France – winner of the 5-year-old class for Blythbridge Farms. Impressively Blythbridge brought two cows to the show – they were both French and stood in the final line-up. And completing the finale were the two Mature Cows (both scored EX-95) 5th lactation Styche Armour Hilgonda and 4th lactation Riverdane Absolute Springsteen. Interestingly both of these cows are past Grand Champions: Hilgonda in 2022 and Springsteen in 2021 (Read more about Styche Hilgonda in HI 11/22 and Riverdane in HI 7/23). Admiring his championship contenders, Judge Morgan began: 'I have been so excited to see this final line-up, and it is everything I dreamed of. They are just incredible, incredible cows. We have some different types of cows here, but one thing they have in common is exceptional quality.' Listening to opinions around the ring, with quality cattle like this everyone had their own favourites and it was simply down to personal preference. But the only opinion that mattered was the man in the middle and he marched over to the 3rd calf 4-year-old Evening Sidekick Jennifer, followed by Wilt Bailay and finally Styche Armour Hilgonda. Commenting on his Champion, Judge Morgan continued: 'I just can't get away from that phenomenal udder. She has incredible rump structure, is hard-topped, she is so strong in the loin, has beautiful bone quality and just a phenomenal udder. I gave her the advantage over reserve; I just felt she was more open-ribbed, more balanced and had a little more width to her rear udder. My Honourable Mention Mature Cow, I really do admire her, but I just felt today that these two younger cows matched better together.'
And it has been quite the year for Jennifer – at UK Dairy Expo in March she took Grand Champion, calved her 3rd calf in May, and is now the UK's National Champion. Jennifer's dam (7th lactation Evening Stanleycup Jennifer EX-96) was Reserve Grand at this show in 2019. Giving a massive 65kg/143lb daily, this milk machine has never been beaten in class since she was a calf. Wilt Bailay, who was Reserve Grand at this show last year made a repeat result. The Godewind-daughter is out of an EX Red Jacot-daughter and was Udder Champion and Intermediate Champion at SIA in Paris last year. A special note must also be made about the quality of cattle in the Red-Holstein categories. 10 Red cows were exhibited in the Red-Holstein cow class; victorious was 2nd calf 3-year-old Wiltor Jordy Rosie-Red, whose dam and granddam have both been Champion Red-Holstein at UK Dairy Day! A very special attribute of this family! l